Maldives water villas , though world famous, cost around $300 per night (in June / July, it could be lower because of discounts). The price fluctuates depending on the meal plan you choose to use, such as Breakfast and Bed Breakfast (BB), Half Board (Breakfast as well as Dinner), or Full Board ( Breakfast, Lunch, and dinner).
On average, a Water Villa is 40% more expensive than a Beach Villa. There are, however, some advantages , such as having more privacy and the chance to swim in a crystal blue lagoon with the confidentiality of private access. Below you'll find the most affordable water villas in Maldives, along with their costs and ratings. Transfer costs are additional and not included in the Villa cost. So it might be a little higher than this. You will get Maldives water villa price list and all the information over here.
Here are the affordable Top 5 Maldives water villas :
1. Embudu Village 3*
A small resort, situated just 10 kilometers from the Airport. Embudu is one of the relatively cheapest resorts in Maldives with all the meals included in the package itself. November to April is the peak season.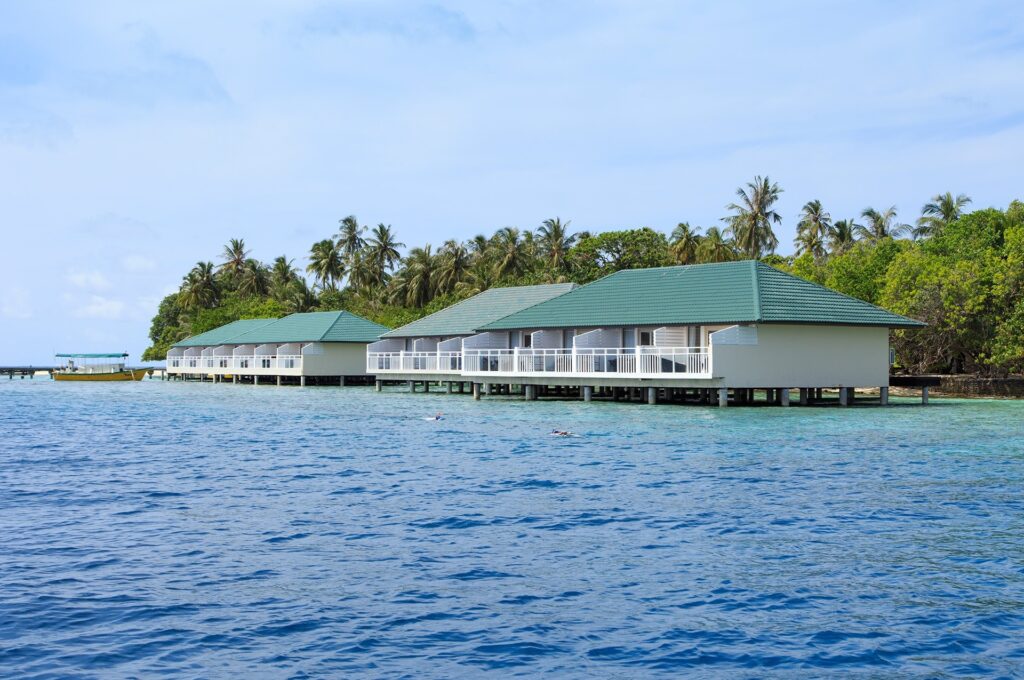 There are only 14 villas on the water located in two blocks along the water on the island. The bungalow's size is 42m2, large and comfortable.
There's a private balcony that offers an endless panorama of the ocean. However, these villas do not have access to the sea from a private area like similar villas on other islands. Also, glass windows are within the room to take in the views of the Ocean. The rest of the facilities include air conditioning, hot/cold water, Tea/Coffee maker telephone, hairdryer—jacuzzi bathtub with mini bar Satellite Television, complimentary WiFi, and Secure.
Price range – $350-$430 per night for a villa, including the full-board meal (breakfast, dinner, or lunch)
Transfers for $88 per individual 10 minutes via speed boat
Definitely one of the best options in the Top 5 Maldives Water Villas list.
2. Reethi Beach Resort 4*
A moderate-sized resort, built on high cliffs that overlooks the clear waters of the lagoons. On this island are 30 villas that are two-dimensional. The size of a bungalow is 61 sqm.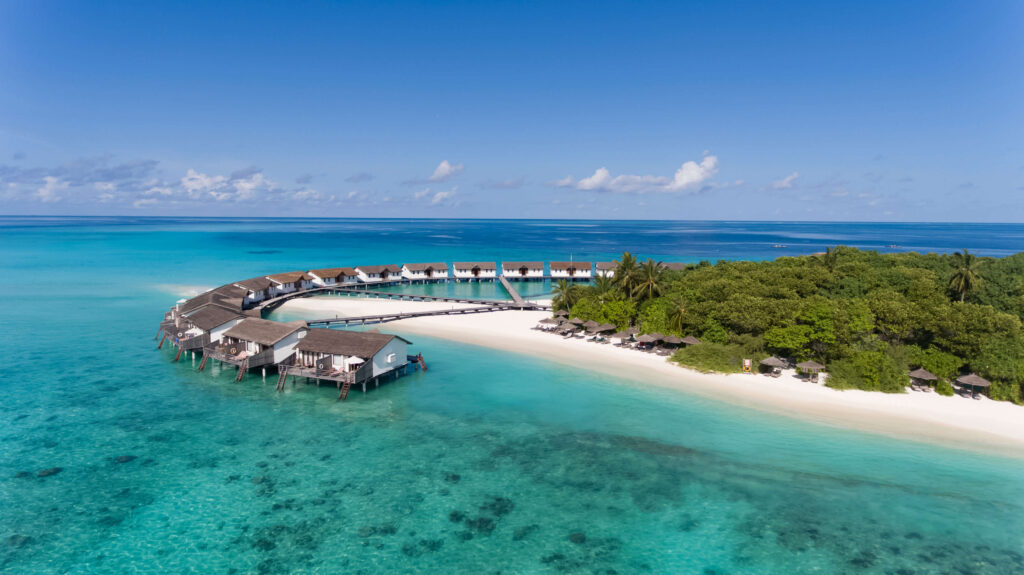 The villas do not offer private access to the ocean to snorkel, and there isn't a bathroom with a view of the ocean since the bathrooms are located in the back of the bedroom. There is, however, an outdoor terrace that is private for taking in the view of the ocean. Each villa comes with bathrooms with bathtubs with separate showers as well as bathrobes. Other room features include King-size beds, terrace decks with sun loungers, a minibar, rain shower and air cooling, ceiling fan, safety deposit box, telephone Satellite TV, Tea/Coffee makers, and hair dryers.
Price Range: $310-$360/night breakfast included in the villa
Transfers – $290 per individual 30 min flight on domestic airline plus 20 min by speed boat
3. Sun Island Resort and Spa 4*
Sun Island Resort and Spa is a beautiful jewel in the world of Maldives hotels. This resort offers a relaxing atmosphere and is among the largest resorts in the Maldives with regard to room and space. It will be awe-inspiring to the heart with unforgettable experiences and lasting memories. The bungalows are situated over the sparkling blue lagoon. The luxurious room is decorated in Maldivian style with wooden furniture giving you more privacy from the other islands. Each bungalow has a private balcony that offers pleasant views.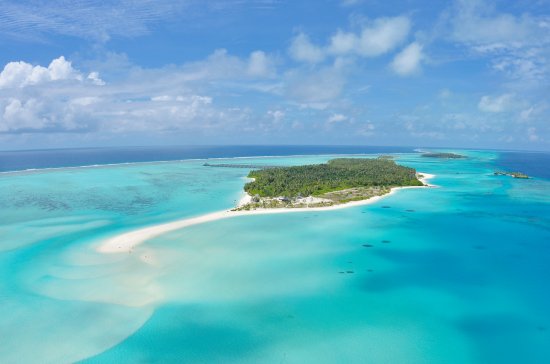 The size of the room is 64 square meters. All room features include Minibar, Air conditioning, hot and cold drinking water, Safe, telephone TV and Tea/Coffee makers, hairdryer and free WiFi.
Like other resorts, water villas must be reserved in advance, preferably within the arrival date of 2-4 months. Each villa is separated into two rooms, each with its veranda. They are also quite far from the beach.
Price range: $290$ 440 per night/villa, including half board (breakfast as well as dinner).
Transfers: $285 per person 30 min flight with the domestic airline and 5 minutes by speed boat
4. Fihalhohi Island Resort
Fihalhohi resort is the ultimate idyllic island escape. It's tranquil, peaceful, and a simple location where you can get free of all the noise. From the villa, you will be able to take in the dawn and dusk. It is a perfect spot for honeymooners.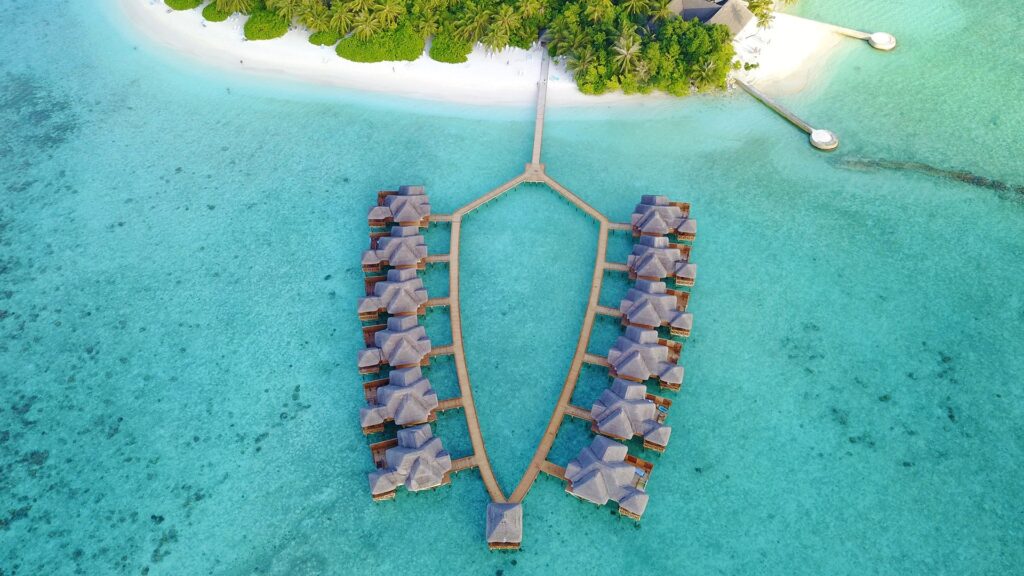 The villa's size can be as large as Its size is m2. The interior is constructed of many wood elements that are completely Maldivian, with a private terrace taking in the breathtaking views of the Ocean. The water villas are all separate, and you will have the privacy you want. Room amenities include air conditioning, Hot/Cold water Television, safe, phone Hairdryer, Tea/Coffee makers, and free WiFi.
Price Range: $435 to $545 per night/villa, which includes Half board (breakfast as well as dinner)
Transfers: $160/person, 70 mins by speedboat
5. Thulhagiri Island Resort
This tiny isolated island has a huge white sandy beach. The resort is covered with stunning tall shady palms and lush greenery that is filled with chirping birds. The resort is home to 34 separate water bungalows that have views of sunrise or sunset.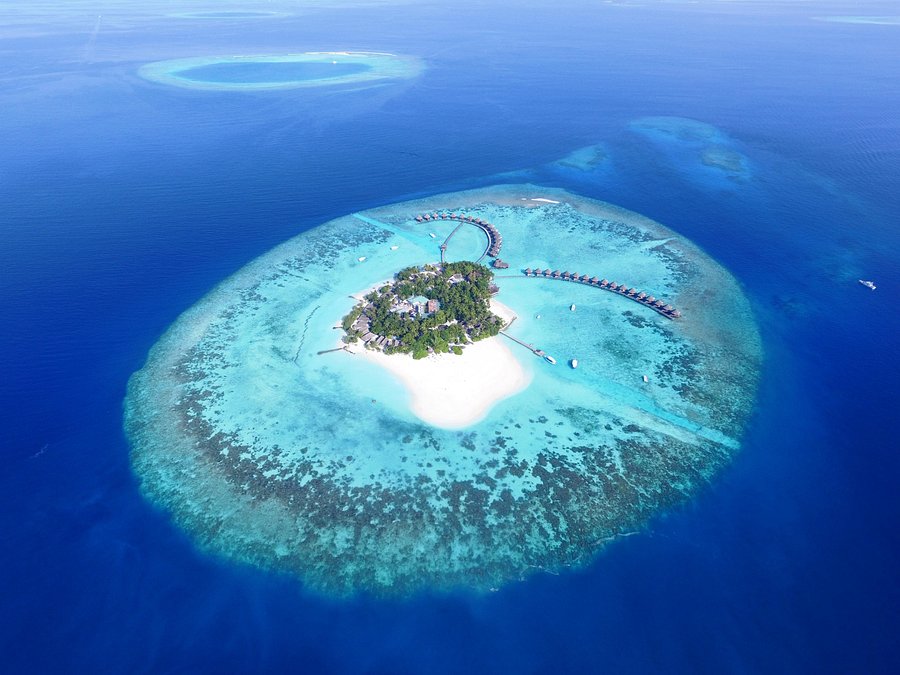 The area of the villa is 34 square meters. The room features two large windows that create a warm and light atmosphere. Bungalow features: Air conditioning, hot/cold water, Safe, telephone TV and Tea/Coffee makers, hairdryer free WiFi, as well as bathroom facilities. Each room is also equipped with its private entrance into the water.
The interior of the villa is constructed in a traditional style with big bamboo elements. It may sound too exciting, but trust me when I say that this resort is pure beauty.
Price range – $300-$385/night/villa including half board (breakfast and dinner)
Transfers: $110/person 20 minutes via speed boat
In case you think, there are better options for the Top 5 Maldives Water Villas , do drop me a comment here.