The recent era has witnessed fantasy sports rise in India. It has emerged as a new trend all-together. Dream11, the popular fantasy sports platform has become quite the hit among millions of sports fans across India. With it now being the official partner
of Vivo IPL 2019, many sports enthusiasts have started following it.

What's more exciting is the new website Fancode by Dream11. For all the sports freak out there, this is one interesting platform where you can gather information related to sports news, updates, how to play tricks, match prediction, etc. It offers information related to Cricket, Football, Kabaddi, NBA and many more games. This information will help you in forming an ideal fantasy team for any upcoming matches. You can use all the sports gyaan provided by Fancode to enter a competition and watch yourself emerge as a winner.
A mini sports guide if you might call it, Fancode has quickly grown to become a popular platform for all the key information and statistics related to upcoming matches.

However, a lot of people still require a certain amount of important information when it comes to the players and even a piece of predictive information about the match before they can invest in a competition. To address this concern, Fancode has come up with a new feature for the match prediction. This helps you to decide and make a sound prediction of who has a higher possibility to win the match.

With a detailed match preview, analysis of key players who made an impact in the previous matches as well enhancing your sports knowledge, FanCode is a great resource that helps to make an informed decision about the match. The same knowledge can then be applied to form a formidable team to win exciting prizes. Other important features of Fancode include:

Live Scores & Match Details
Fancode helps you to keep track of live scores, especially in this key IPL season where you don't want to miss out on the scores at any point of time. Fancode also gives you all the information regarding the venue and time of the match upcoming match.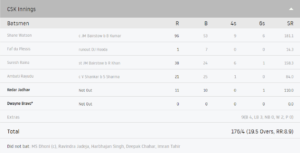 With so many injured players and their replacements coming into the picture, it gets quite challenging to change your current fantasy team and its strategy. The predicted XI is key to understand what kind of strategy the team is going to adopt. The predicted XI will give you an idea of how the team may opt for a specific set of players than the usual team they play.
It's always a tough call when two strong rival teams face against each other. When the stakes are high, the result can go either way and the past performances may have said the same story. Fancode has come up with an interesting match prediction feature. It also gives you detailed point projects that each player may get to score along with his grade. To know more about the match prediction of upcoming matches, click here.
All the buzz that's happening on the match day and the latest news surrounding a
fixture is available on Fancode. Every match has its own dedicated page to get a
glimpse of the upcoming match.
With so many exciting features available at just a click, what are you waiting for? Go
and explore as much as you can on Fancode and enhance your sports knowledge.